HIKING TOUR
The Basque Geopark
Zumaia – Deba – The Flysch trail




Hiking tour
Starting time:
9:00 am
---
Duration:
9 hours
Walking time:



5 hours
Difficulty:
Moderate
---
Private tour
---
The tour will start and
finish in your accommodation

Prices
Ask for a quote
for a larger group

Included
Private Group
All transportation costs
Local Basque  Guide
Not included
Lunch
Food & Drinks
Any other not specified item
Walk the stretch between Zumaia and Deba and experience more intensely than any other spot along the coast, the amazing consequences of the battle between the wild seas and the rocks.
---
Itinerary
The Basque Coast Geopark contains an exceptional geological treasure the Flysch, a spectacular layered rock formation which shows us over 60 million years of history of the Earth along 13 kilometers of cliffs and beaches. This small section has revealed many of the planet's intimate secrets to scientists, from annexing the Iberian Peninsula to Europe and the creation of the Pyrenees, to the disappearance of the dinosaurs about 65 Ma ago. We will start our journey in Zumaia taking a road that allows us to gain altitude while enjoying panoramic views over Zumaia and the coast. The journey continues inside the Geopark, in a maze of valleys and green mountains inhabited since prehistoric times. We will pass several farmsteads and, after walking around a hillock, we overcome a sharp gradient to arrive at the recreation area.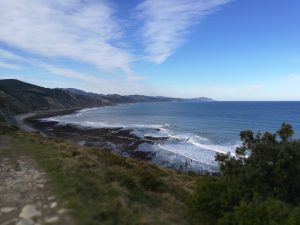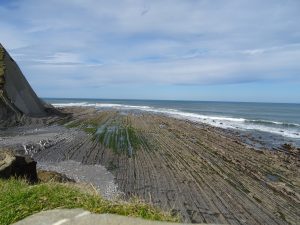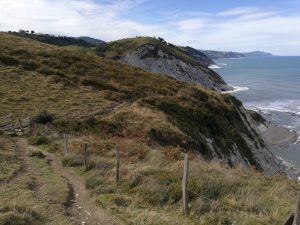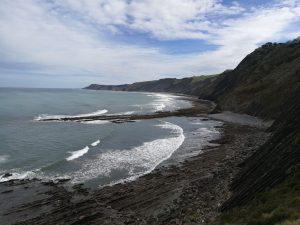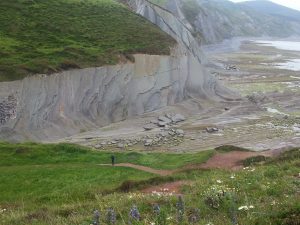 From here we descend gradually until we arrive at Sakoneta beach where the flysch proudly emerges and where the tidal plain is bigger than anywhere else. It is an area for surfers and daring ramblers. After a small break for snacks and drinks, we will continue the route. The ascent is steep and quite uneven at first but we will soon reach a flatter path. We will cross a couple of tunnels to get to a bridge that goes over a road and we will continue climbing following the track and after passing a beautiful hermitage, we will finally descend to Deba, the end of the hike. After lunch, we will take the local train to go back to Zumaia where we left the van.
It's Personalized
Our tours are private. We give you the possibility to design or adapt the tours based on your interests and preferences
It's Authentic
Thanks to our knowledge and our contacts, you will experience a full immersion into the culture and identity of the Basque Country
It's Exclusive
Our tours are specially designed for small groups so that you can interact with us directly and personally